We are excited to be back for our 8th season as Journal del Pacifico! We have already received many, many compliments on the stunning Fall 2018 issue cover by one of our newer local artists, Brian McGuffey. Read more about him in "On the Cover."
Brian was also one of the artists who contributed their work to Todos Santos' new letter sign, located near the church on the plaza. The sign was installed this summer by the church on the plaza. The letters were painted by local artists; in letter order: Gabo, Erick Ochoa, Benito Ortega, Leif Holland, Gloria Ruenitz, Joel Cadena, Arturo Mendoza Elfeo, Maribel Nuñez, Michael Cope, Brian McGuffey, and Jill Logan.
In this issue, you can read about Saddling South's film ride for La Recua / Dario's Dream. The general intent of this Antigua California film is three-fold: to enlighten viewers to pre-road travel in Lower California, to espouse the history of Old California's ranch culture still alive in the sierras of México, and to share how the present-day arrieros (herdsmen), were re-enacting an era of commerce, las recuas (traveling merchants with pack-trains), that was key to livelihood for centuries on the remote peninsula.
We are happy to welcome Ivonne Benítez of Hablando Mexicano Spanish language school who joins our team as one of our translators.
Looking to have a spooky good time on Halloween? Gallo Azul is holding their Halloween Costume Party on Saturday, October 27, starting at 8 pm. This benefit for the local Bomberos in includes live music, dancing and prizes for the best costumes.
The Oasis in Pescadero is holding a Monster Kid's Bash on October 31, 6 pm. Prizes for the best costumes, trick or treating and more!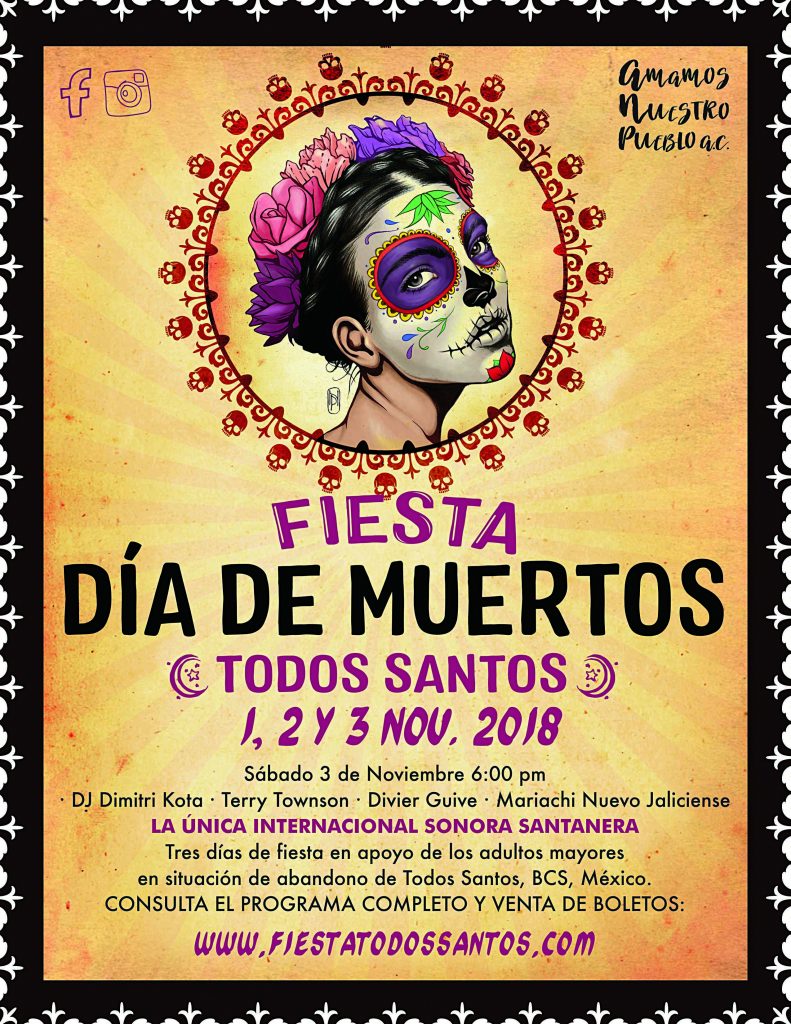 The 2nd annual Día de los Muertos Todos Santos will take place November 1 – 3, with fun cultural activities for the whole family. Check out their facebook page for more information!
November 2, is the 10th anniversary of Landi's dream of opening a restaurant in Todos Santos. People from all over rave about her delicious Mexican specialties.
Internet is now available even in the most remote areas of Baja, thanks to "Star Go"–the new satellite internet provider that offers excellent service anywhere at all, at speeds of up to 1.5, 3, 5, 10 or 20 megabytes. Their satellite TV is included and offers a large variety of national and international channels, at lower prices than their competition. New subscribers in October will get their first month service free. For more information, call the Star Go agent for Baja California Sur, at (624) 688 7274.
The 3rd annual Women Awakening summit "Creating the Magic" will take place December 7 – 9, at Cuatro Vientos in Todos Santos. You can read more about this year's conferences in our article this issue.
Amor D'vino is much more than a wine shop. In addition to sipping delicious wines on the patio, this season you can also enjoy tapas by area chefs, and picnic baskets to take to the beach.
Jester's Sportfishing in Las Playitas, offers local sports fishing, surfcasting, bow fishing, and ATV adventures. Contact them for more information.
Dreaming of a wedding in Baja? Wanderlust Weddings Baja has been sharing the beauty of Baja with amazing bridal couples for 14 years now. They have had the pleasure of planning, designing and coordinating over 300 weddings that are unique, special, and full of the Baja spirit!
Cabo Premiere Investment & Real Estate has opened their new location in Pescadero, directly across the street from The Oasis Bar & Grill.
Gypsy's Beach House Rental now Colibri Property Rental & Management Services. You can still visit them at their office at Baja Beans in Pescadero.
The 9th annual Writing Ranch "Writing Down the Baja" retreat takes places January 27 – February 3, 2019 in Todos Santos. Reserve your spot by November 16. See events for more details.
This December 29th, the 10th Palapa Society 5k walk/run will take place. You can reserve your spot online, or at El Tecolote Bookstore in Todos Santos. Race day registration is also available 7 – 8:30 am. Look for our feature story in the next issue, Holiday 2018/2019.
Reserve your ad space now! The deadline for Holiday 2018/2019 is November 10.