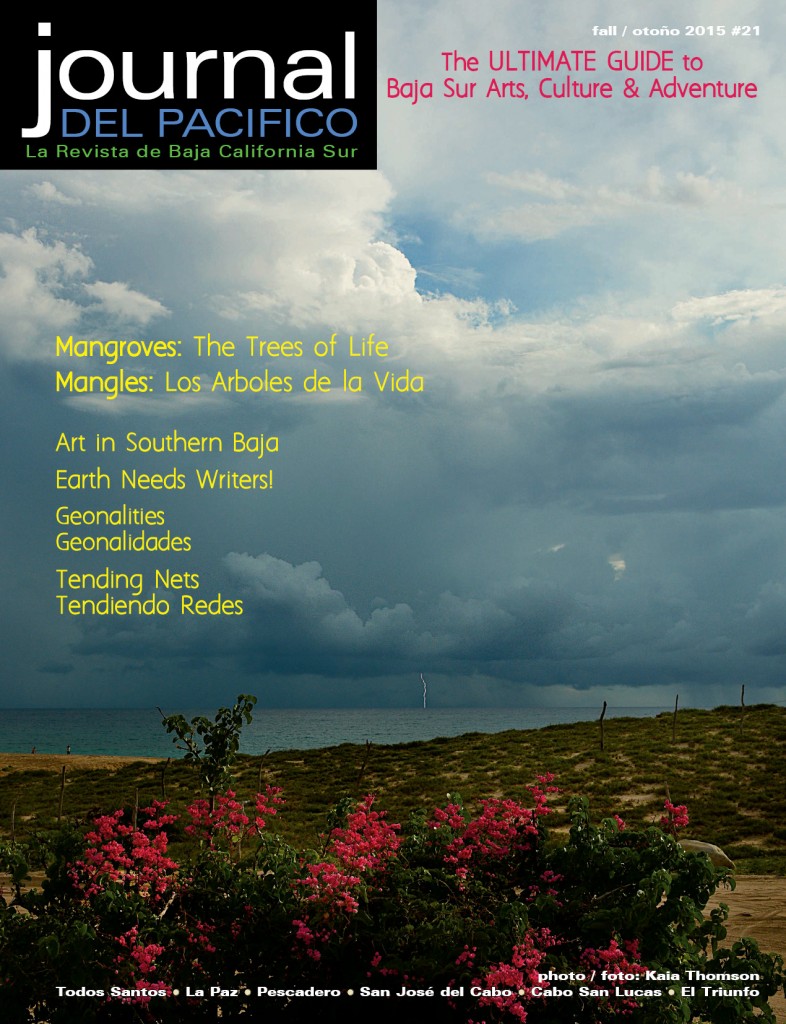 It was a long, hot summer with lots of changes, but Journal del Pacifico, your ultimate guide to Baja California arts, culture and adventure, is back and ready for an exciting new season!
Once again, in our Fall 2015 issue, Bryan Jáugerui of Todos Santos Eco-Adventures has written a fascinating article on the importance of mangroves to our fragile coastal ecosystem and how they are threatened by developments. Bryan and her husband, Sergio, will also be speakers at this season's Todos Santos Writers Workshop in January 2016, "Earth Needs Writers!" See our article in this issue for more information.
The multi-talented Kaia Thomson provided many of the photos for species living amongst the mangroves, this issue's dramatic cover shot, plus a little fun with area rock formations. She also took the stunning lunar eclipse photos from September 2015 for "El Cielo."
We'd also like to thank the art class of Tori Sepulveda for their lovely collage of the mangrove lifecycle, which was created just for this article. The artists who created this collage were: Tori Sepulveda, Monica Devine, Carol Bailey, Susan Willison, Joanne Spinoza, Christina Douglas and William Dubroraw.
Michael Cope of Galería de Todos Santos shares his experience over the past 20+ years painting and running a gallery in Southern Baja in this issue's Art Talk.
Also in this issue, Bruce Bennett of Allende Books in La Paz reviewed the bilingual photographic book Tendiendo Redes / Tending Nets by La Paz photographer Alejandro
Rivas Sánchez.
We'd like to welcome Snell Real Estate to Todos Santos. You can find their offices on the newly repaved calle Juárez in Galería La Poza.
Rancho Pescadero is excited to announce their Guest Chef Weekends, a series featuring top culinary talents offering cooking classes, special dinners and more. The series starts November 12-15, with Renee Erickson, author of A Boat, a Whale and A Walrus and Chef/Owner of The Walrus and the Carpenter, The Whale Wins, and Barnacle in Seattle, plus three new projects opening this fall. In March 2016, Jessica Koslow of the Los Angeles restaurant Sqirl and the soon-to-open Sqirl Away, will be the Guest Chef. Following Knowles, in April will be Executive Chef/Partners Thomas McNaughton and Ryan Pollnow of Ne Timeas Restaurant Group in San Francisco (flour + water, Central Kitchen, Aatxe, Café du Nord, salumeria). In May, the resort will host Greg Denton and Gabrielle Quiñónez Denton of OX Restaurant in Portland; the couple will be releasing their first cookbook Around the Fire in March 2016.
This November, Pescadero Surf Camp presents Desert Moon—a new hotel right on the Cerritos beach surf break—the perfect location for relaxation and sports activities.
Each of their large rooms with kitchenettes has an ocean view.
Just up the road, FreeSouls offers an amazing culinary experience at Cerritos beach, featuring wood-fired pizzas, fish, lamb, steaks and homemade desserts. Not to mention
the rooftop, ocean view Mediterranean bar and heated swimming pool.
Need a ride? Todos Santos Private Transportation provides professional airport transportation, private car service, transportation for wedding parties, and shopping
services to La Paz or Cabo at daily and hourly rates.
Shut Up Frank's, Todos Santos' first sports bar, is under new management. John Brown, with over 40 years bar and restaurant experience, has partnered with Frank Henley. In
addition to the locals' favorite menu items, John has added his family recipe for Southern fried chicken, homemade meatloaf, world-famous chili, chili dogs and chili cheese
fries—as well as many new specials to come during the season.
Start your NFL Sundays with 2×1 Bloody Marys at Chill N Grill. They've also added tasty grilled French bread pizzas topped with pepperoni, veggies and cheese to their menu. Check their facebook page for upcoming live music events. Like their Halloween Party, Friday, October 30th.
Hosting a party or celebrating an upcoming event? Baja Pastry Girl makes custom desserts, cakes, ice cream and pastry with locally sourced and organic ingredients. Her
specialties include pumpkin pie, apple pie, three-berry pie, key lime pie, cheesecake, ginger rum Bundt cake, pumpkin cream pie, fudge, holiday cookies, macaroons, red velvet
cake and fruit tortes. Baja Pastry Girl needs three day notice for an order—call or email now!
New this season, The Todos Santos Speaker Series. This series features six different speakers covering Baja California natural science subjects. Author Graham
Mackintosh, starts the series on December 4, at the Centro Cultural "Prof. Nestor." Upcoming speakers include: Dr. Jon Rebman, author of the 3rd edition of Baja California
Plant Field Guide; Stephanie Rousso of ProFaunaBaja; and "Indigenous Rock Art of The Baja Cape Region" with Anibal Lopez. Advanced tickets are available at El Tecolote
Bookstore.
ATV Adventures in Las Playitas (north of Todos Santos) provides ATV rentals, fishing and horseback riding. Call their cell (612) 156-4213 for more information.
January 2016, Peter Buck and friends will be back for the 5th Annual Todos Santos Music Festival in partnership with The Palapa Society of Todos Santos, A.C. featuring
the strongest musical lineup to date. See our exclusive stories next issue, Holiday 2015/2016. For more information and VI P tickets visit: http://todossantosmusicfestival.com/
We were saddened by the sudden passing of local graphic artist, Jan Piere on October 5. Jan was a frequent Journal del Pacifico advertiser, creative, strong willed and a
memorable person in our pueblo.