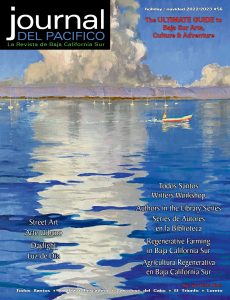 Thank you for all your compliments on our Holiday / Navidad 2022/2023 issue with cover by artist Ezra Katz. Local photographer Liz Icedo shared her beautiful Baja sunset photo for our Winter / Invierno 2023 cover.
In this issue, Bryan Jáuregui of Todos Santos Eco Adventures tells of the new Cowboy Museum in El Triunfo, that chronicles the 300-year-old story of the families, traditions, skills, and tools that bind the Californias of Mexico and the United States.
Bryan also shares with us how Zero Waste Hotels, like Hotel Desierto Azul in the Las Tunas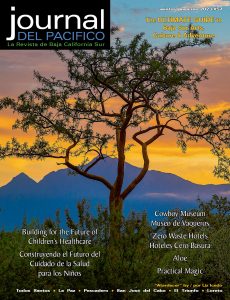 area of Todos Santos, are working to make a minimum impact on our precious environment.
Nancy Naigle informs us of the impressive gains that the Padrinos Children's Foundation has made over the past seven years and their exciting plans for the future.
Ivonne Benítez, of Hablando Mexicano, tells the inspirational story of how owner Alan Becerril has created his restaurant and now Hotel Gallo Azul businesses. Alan has been a well-known figure in the Todos Santos community since 2005, and Gallo Azul Pizza Bar has been a popular spot since it first opened in 2014.
Have you tried the gourmet tacos at Tacoteca in Plaza Amigos in Todos Santos yet? Their fresh, daily specials include duck confit, top sirloin, pork carnitas, portabella mushroom, and more. Every Thursday is Taco Thursday with live music in the evening.
Happy 10th year anniversary to Étnica in Todos Santos! Their two locations, Étnica and Étnica Dos, have the finest Mexican handmade women's and men's fashions, leather goods, and home furnishings.
Amanda Reta tells the tale of Practical Magic: how this pueblo mágico is magical in the enchanted sense of the word. This tiny international melting pot has residents from all over the world, and yet you don't just end up here. And how three women––a tarot card reader, a ritual teacher, and a breathwork practitioner––help us mortals tune into something bigger than ourselves while remaining in the awe-inspiring now.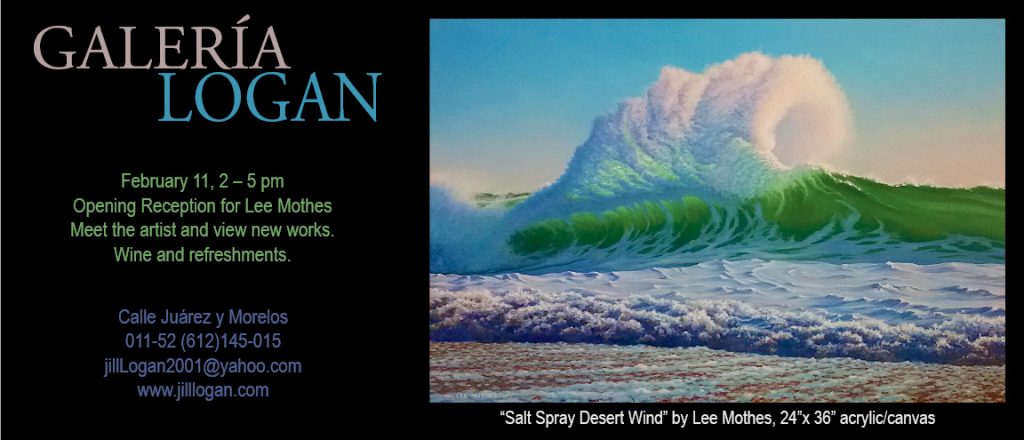 Galería Logan is hosting a reception for artist Lee Mothes on February 11th. View his newest paintings and drawings of ocean surf, meet the artist, and enjoy wine and snacks.
The luck of the Irish is with you on March 17th. Shut Up Frank's in Todos Santos will be celebrating their 28th annual Lucky St. Paty's Day with Frank's special homemade corned beef. And Shaka's in Cerritos will be hosting their Shamrock Shindig benefiting the Pescadero Food Bank and Grupo Madre Teresa.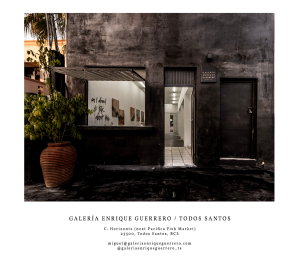 Galería Enrique Guerrero represents a group of young artists who are part of the emerging scene and explore all the visual arts disciplines such as painting, sculpture, photography, video, installation and digital media, with a contemporary vision and self-sustainable proposals. The gallery offers them a space of freedom in which they can exhibit their artistic creation, in addition to spreading their work nationally and internationally. Their newest location is on the otro lado of Todos Santos, next to Pinos Mercado and Pacifica Fish Market.
Contigo Cerritos is the perfect balance of home and hospitality. The intimate community of boutique casitas was designed by international award-winning Sanzpont Arquitectura based in Barcelona, Cancun, and Chicago, and features an international design aesthetic with an authentic local touch. As much as possible all materials and craftsmen are sourced in Mexico, as are the interior design touches. With a passion for sustainability, the layout of the casitas was based on a solar study to minimize direct sun exposure to interiors, to maximize efficiencies, and to preserve the view from the road above, so that hikers and bikers can continue to enjoy the ocean views. The casitas are built with sustainable features such as grey water recycling, partial green roofs, and renewable backup power.
In addition to their popular Las Tunas location, Shakti Bowl has a new healthy restaurant at El Merkado in San José del Cabo.
New World Organics Baja produces non-toxic and organic pest control, cleaners, sanitizer, mosquito repellant, and plant fertilizers. Their products are available in various locations in Todos Santos, Pescadero, Cabo San Lucas, La Paz and now on Mercado Libre.
The Palapa Society of Todos Santos is holding a masquerade ball on April 1st. Masquerade masks are encouraged, costumes are optional. Dinner included and beverages are available. See their website for more information.
We will see you with more exciting stories in our next issue, Spring / Primavera 2023. The deadline is March 10.