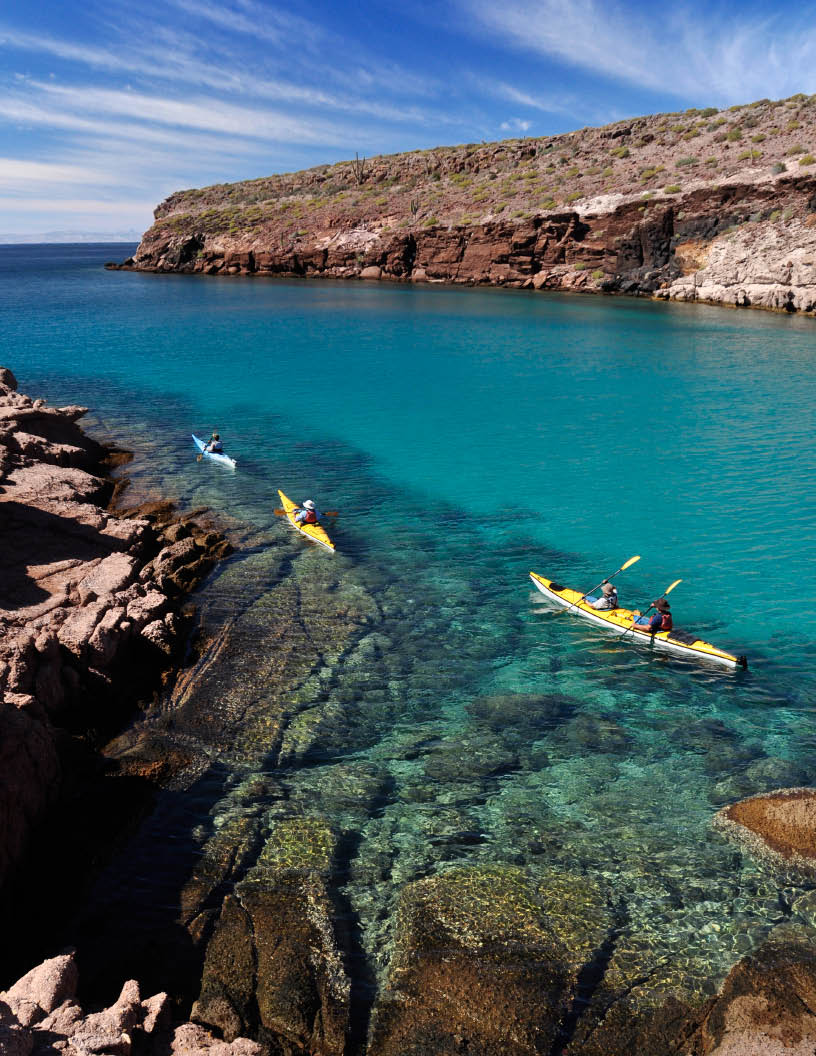 The weather right now is beautiful in Southern Baja. It's a great time to get out and explore! I recently took two mini-vacations—one trip kayaking on the Sea of Cortez and the other whale watching in Magdalena Bay.
Sea kayaking in the Sea of Cortez is such a pleasant way to explore the rugged coast line and access secluded beaches. Paddling over the rocky areas gives you a great view of the vast life below the surface—sea anemones and urchins, snails and clams, schools of fish swimming past and crabs scrabbling over the rocky points. There's a variety of birds to see as well—pelicans, seagulls, frigate birds and cormorants flying overhead and diving into the water to fish, while herons and egrets stay close to shore. Kayaking around Espiruto Santo island near La Paz also allows a close up view of a sea lion colony.
Baja Outdoor Activities (BOA) is offering a 20% discount to Baja residents and Journal del Pacifico readers on selected trips this season. Contact them today for more information. Call (612) 125-5636 or email: paddle@kayakinbaja.com for more information.

Whale watching in Magdalena Bay is a once in a lifetime experience. Living here for over 16 years, I can't believe that I've never done it before, so when Todos Santos Eco Adventures offered me the chance to join in with one of their groups I jumped. Most of my group members were retirees in their 60's.
Our overnight trip started with an 8 am pickup by Mauricio, guide extraordinaire. The comfortable van whisked us to Lopez Mateos where we enjoyed lunch before heading out in the channels to view mother gray whales and their babies. The calm, shallow area allows you to see these gentle giants close up. Mauricio spotted whales and pointed out how to tell mothers from babies, which are actually born black but turn gray as they develop white patches from a skin parasite and barnacles attach themselves to their upper body. I was in charge of counting how many whales we spotted, but I confess, after 20 or 30, I lost count.
As we were making our way back towards land, we spotted one last group and stopped the boat. JoAnn and I eagerly splashed the water inviting the whales to come closer and visit us. One young whale came closer to take a look—boy was I surprised when it came up out of the water right by my face!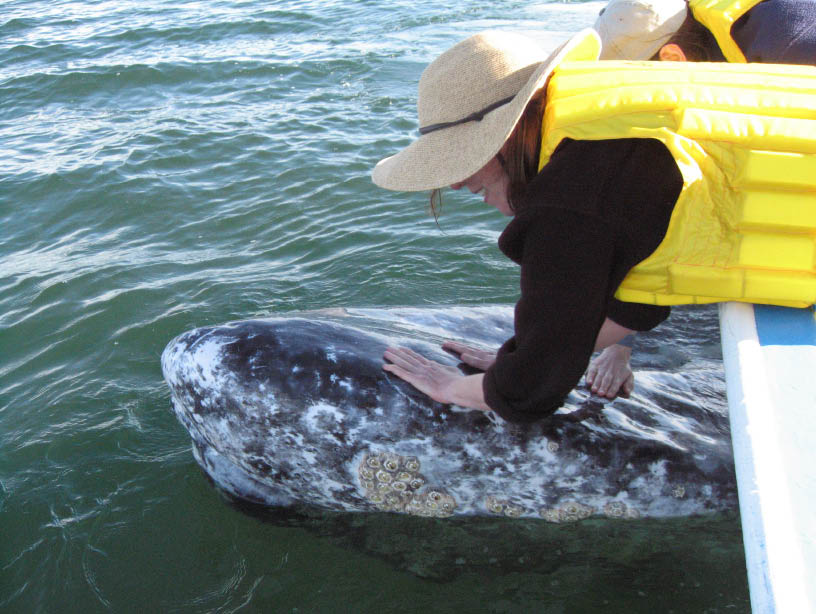 We were amazed as the young whales made repeated trips over to the boat, lifting their faces out of the water to touch our hands. Our boat of "seniors" quickly sounded like children as we excitedly stuck out our hands to get a chance to touch their soft noses. The huge mother whale stayed back, but lifted her whole head out of the water to take a good look at us and give us a close up view of her face. She then went under the boat to scratch off barnacles—looking down at her back you could see them so clearly. She also rolled over and laid under the boat showing her belly. It was incredible to see such a huge, graceful creature close up.
We had dinner and spent the night in Puerto San Carlos and then headed out the next morning in Magdalena bay where the juveniles and adults hang out and mate. This is where you can get views of jumping and rolling–lots of tail views and flippers.
Our tired, but happy gang enjoyed one last lunch before climbing back into the van and our return to Todos Santos. For more information on whale watching in Magdalena Bay, contact Todos Santos Eco Adventures at: tsecoadventures@hotmail.com