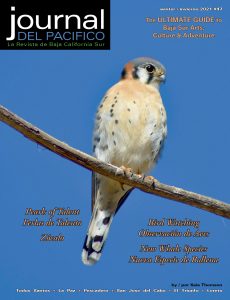 Welcome to our first Journal del Pacifico of 2021. We are excited about this issue and the great stories and photos and hope that you enjoy them!
Area businesses are working hard to stay open and keep both locals and visitors safe. Be aware that government mandated Covid-19 regulations change and posted business hours and availability as well.
Kaia Thomson of Todos Caballos provided our stunning Kestrel cover and her story and photos of the importance of getting out in nature and birding.
Bryan Jáuregui of Todos Santos Eco Adventures shares the story behind the headlines of a possible new whale species discovered here by Baja California Sur native, researcher Dr. Gustavo Cárdenas Hinojosa, with photos courtesy of the Sea Shepherd and CONANP.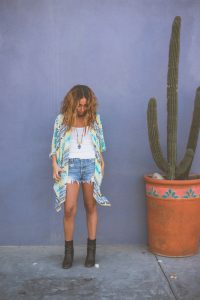 The Todos Santos/Pescadero area has long been known for outdoor activities and art, but it is increasing being known for fashion. In this issue, we introduce you to Zócalo, a clothing store/collective that most importantly is a social enterprise, which focuses on local Mexican artisans and makers.
You can find more rare gems with a stroll through the historic district of Todos Santos: soft colored cottons from Oaxaca and Chiapas, and hand tooled leather at Étnica; carefully curated items from around the world at Nomad Chic (see our story in the Holiday/Navidad 2020/2021 issue); locally designed and made swimsuits, clothing, and jewelry at Ella Bella Boutique; and one-of-a-kind treasures at Bésame Mucho Bazaar.
Brian McGuffey Art is now open in Plaza Amigos with a carefully selected array of custom jewelry and clothing, and of course, Brian's colorful and whimsical art.
ULULA is a mystical gypsy heart boutique, specializing in magic and selling a curated offering of creations, clothing, and supplies. Everything is specifically and specially selected by Stephanie Penilla and Jessica Chappell for either its amazing story, native roots, magical power, or local beauty. Once you've visited, you will be called back for more magic.
Casa de Todos is a beautiful, open space furniture gallery on the otro lado of Todos Santos representing creative Mexican artists and sustainable vegetarian food to go.
Ernesto Vinatier, of Los Torotes in the Las Tunas area, is a Mexican architect specialized in urban planning and is passionate about sustainable architecture—energy efficiency, and high-performance buildings. His current focus is touristic urban planning and minimizing its pressures on the communities and natural environment.
Todos Santos Surf Shop / Explora Baja offers "Personalized Adventures by the Sea" including sport fishing, surf lessons, cliff hikes, whale watching, snorkeling with whale sharks and sea lions, Espíritu Santo island day trips, and La Paz city and beach tours. All activities are at a maximum of 30% capacity.
West Side Surf School, located at Cerritos beach, is a family owned and locally run business, founded by Heli "Tacho" Campos. They offer individual or group lessons for beginners, and surf coaches for surfers looking to improve their technique. Surf guides are also available for those looking to discover local breaks.
The 2021 Todos Santos Writers Workshop is virtual this year. They have commissioned a series of short videos, called "Video Salsa," produced by Sarah Teale and shot and edited by Ricardo Madrazo. These videos will be posted daily and are intended to give workshop attendees a connection to Todos Santos. The videos are magnificent portrayals of life and culture in Todos Santos from an insider's point of view, created for no commercial purpose and with no social agenda. Ricardo's videography is gorgeous and the characters we see are authentic Todos Santos people who add something creative to life in the Pueblo Mágico. Click here to see these videos.
The dates have changed on Galeria Militar's show Quien Calla, Otorga / Silence is Consent. You can still see it through February 23.
We'll be back with our Spring/Primavera 2021 issue. Deadline is March 10.