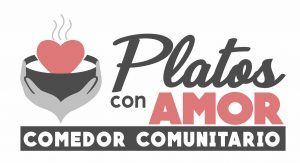 Happiness is a Hot Meal
Online art auction to support local Community Kitchen
Join us Saturday December 5, 2020 from 9am to 5pm, MDT for an online auction of specially selected oil paintings by Robert E. Wood, that capture the breathtaking beauty of southern Baja. All proceeds will go to Platos con Amor, Comedor Comunitario, a volunteer organization serving free hot meals to those in need in Todos Santos, BCS.
To learn more, and to participate in the auction, visit www.platosconamor.org

Platos con Amor, Comedor Comunitario is a new, volunteer-run organization whose mission is to serve nutritious and tasteful meals, at no cost, to the most vulnerable people in the Todos Santos community.

"We strive to promote public awareness of the impact that hunger and isolation have in our society. We believe in the power of joined efforts to improve the quality of life of our neighbors." Elisabeth Chavez Friend, Founder
Like many local businesses during the early months of the Covid-19 pandemic, Elisabeth Chavez' Catering Company closed temporarily. Wanting to help those in need, Elisabeth re-focused her team to cook and deliver an average of 35 meals a day, 6 days a week for those who didn't have access to a kitchen or had disabilities that prevented them from cooking for themselves. Many are elderly, and do not have family nearby. Some are single mothers with children, who have struggled to find work at this difficult time. Knowing that this population will need longer-term support, Elisabeth's team including Denisse González created Platos con Amor, Comedor Comunitario, the first organization of this kind in Todos Santos.
Moved by the importance of their mission, award-winning artist Robert E. Wood, whose artwork is shown in galleries in La Paz and in Todos Santos, BCS as well as around the world, has donated 14 of his finest oil on canvas paintings. Inspired by the beauty and light of the mountains and desert landscapes of southern Baja, his dramatic works sing with color.
You can support Platos con Amor by participating in this online art auction on December 5. Simply visit www.platosconamor.org to view the available works, and to make a bid. You can also visit Jardín Alquimia in Todos Santos to view and purchase other paintings created by Robert E. Wood.   
All proceeds will go to Platos con Amor for hot meals served to those in our community who are unable to cook for themselves.