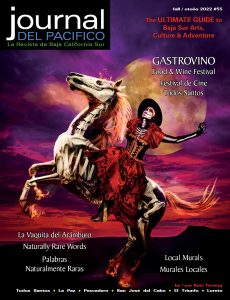 Holiday / Navidad 2022/2023 Deadline / Fecha Limite – November 10 /
10 de Noviembre
Texto en Español abajo
Thank you for all your compliments on our Holiday / Navidad 2022/2023 issue with another stunning cover by photographer Kate Turning. Kate's Day of the Dead cover features model Jenny Armit as the rider, with makeup by Ximena Bundia of XBMakeup and wardrobe by Gladis Martinez Gladis Martinez.
We at Journal del Pacifico, now in our twelfth season, continue our mission to support local businesses and promote our beautiful peninsula.
Following are the closing dates for the 2022/2023 season. Contact us for ad space availability, prices, and sizes.
Don't wait! Contact us to participate in the upcoming Holiday / Navidad 2022/2023 issue that covers mid-December through the end of January 2023. We continue to publish beautiful artwork, stunning photography, exclusive stories, and profiles. As always, it is the features that make each issue a valuable resource to guide visitors and residents to the special qualities that make Baja California Sur a great place to live and a magical place to visit.
Holiday / Navidad
mid-December 2022 / January 2023
Issue closing date: November 10, 2022
—
Winter / Invierno
February / March 2023
Issue closing date: January 10, 2023
—
Spring / Primavera
April / May 2023
Issue closing date: March 10, 2023
—
Summer / Verano
June through September 2023
Issue closing date: May 10, 2023
Prices do not include 16% IVA.
10% extra charge for special placement.
Every issue of Journal del Pacifico, la Revista de Baja California Sur, reaches 50,000 new and returning clients. 10,000 copies are distributed in La Paz, Todos Santos, San José del Cabo, the corridor, Loreto, El Triunfo and Los Barriles. Locals and visitors look for every issue to take home, share with friends, and visit online.
Our Readers: Print Readership: 50,000 (based on 5 readers per copy)
Male/Female: 41%/59%, ages 25 to 65+
American, Canadian, and International visitors and residents.
Upper-middle-class Mexican residents in La Paz, Todos Santos, and Los Cabos.
Our website/blog journaldelpacifico.com features area information, events, articles, and maps, plus downloadable PDF versions of every issue for your clients, friends and family to read wherever they are in the world.
Reserve your space, share your business news, events and send your ads to: info@journaldelpacifico.com
Facebook: www.facebook.com/JournaldelPacifico
We look forward to talking to you about this special issue in the coming week!
_________________________________________________________________________
Holiday / Navidad 2022/2023 Deadline / Fecha Limite – November 10 /
10 de Noviembre
Muchas gracias a todos por sus comentarios positivos sobre nuestra edición de Otoño 2022, con otra espectacular portada de la fotógrafa Kate Turning. Su portada de Día de Muertos incorpora el modelaje de Jenny Armit como la jinete con el maquillaje de Ximena Buendía de XBMakeup y el vestuario de Gladis Martinez.
En el Journal del Pacífico, revista que va en su decimosegundo año de publicación continua, seguimos firmes en nuestra misión de apoyar a los negocios locales y promover nuestra hermosa península.
A continuación, las fechas límite de entrega para la temporada 2022-23. Por favor envíanos un mensaje para consultar disponibilidad, precios y tamaños.
¡No esperes! Contáctanos hoy mismo para participar en nuestra siguiente edición de Navidad 2022/2023, que abarca de mediados de diciembre a fines de enero de 2023. Continuamos publicando bellas obras de arte, fotografía impactante, artículos exclusivos y perfiles de personajes locales. Como siempre, el contenido es el que convierte a nuestra publicación en un valioso recurso para los visitantes y residentes que desean conocer las cualidades especiales que hacen de Baja California Sur un lugar excelente para vivir y mágico para visitar.
Holiday / Navidad
Diciembre 2022 / Enero 2023
Fecha de cierre: 10 de Noviembre 2022
—
Winter / Invierno
Febrero / Marzo 2023
Fecha de cierre: 10 de Enero 2023
—
Spring / Primavera
Abril / Mayo 2023
Fecha de cierre: 10 de Marzo 2023
—
Summer / Verano
Junio hasta Octubre 2023
Fecha de cierre: 10 de Mayo 2023
Los precios de estos anuncios no incluyen IVA ni cargos por ubicación especial en la página.
10% de aumento para la colocación especial.
Cada edición del Journal del Pacifico, la Revista de Baja California Sur, alcanza 50,000 clientes, nuevos y ya existentes. 10,000 copias se distribuyen en La Paz, Todos Santos, San José del Cabo, El Corredor, Loreto, El Triunfo y Los Barriles. Locales y visitantes esperan cada edición para llevársela a casa, compartir con amigos, y visitarnos en línea; en días inmediatos después del Huracán Odile la página del JDP en Facebook fue el sitio de búsqueda de información y actualizaciones. Esta edición de Colección, tendrá una vida de 12 meses en aparador, que los lectores utilizarán como referencia durante todo el año.
Nuestros lectores: lectores captados: 50,000 (basado en 5 lectores por copia).
Masculino/Femenino: 41%/59%, edades 25 a 65+
Americanos, Canadienses, visitantes internacionales y residentes-
Clase Media/Alta residentes Mexicanos en  La Paz, Todos Santos y Los Cabos.
Nuestro sitio/Blog journaldelpacifico.com presenta información de area, eventos, artículos y mapas, más versiones de PDF para bajar de cada edición para sus clientes, amigos y familia para leerlo dondequiera que estén en el mundo.
Reserve su espacio, comparta las noticias de su negocio, eventos y mande sus anuncios a: info@journaldelpacifico.com
Facebook: www.facebook.com/JournaldelPacifico