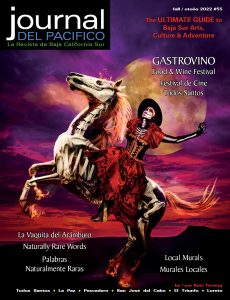 We are excited to be back for our 12th season with yet another stunning cover by photographer Kate Turning. Kate's Day of the Dead cover features model Jenny Armit as the rider, with makeup by Ximena Bundia of XBMakeup and wardrobe by Gladis Martinez Gladis Martinez. You will find more of Kate's images throughout this issue.
The famous GastroVino Food and Wine Festival is back! This year there are two nights of GastroTour and the main festival will be hosted at a new location, Jazamango. See our feature in this issue to read more about this popular event which takes place November 10 – 13.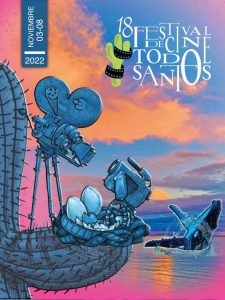 The 18th annual Festival de Cine Todos Santos (FCTS) celebrates the best in Latin films and runs November 3 – 8, 2022. The FCTS will be the biggest to date, with exclusive Latin American premieres, Cuban cinema, special guests, and a huge celebration. See our article for more information about the festival and its founder, Sylvia Perel.
Have you noticed the increasing number of murals throughout Todos Santos and el Pescadero? In this issue, Lisa Demoney explores the many murals around town that bring history to life and make it fun to learn about our pueblo. Mike Brinkman supplied the photos.
This issue includes a part of La Paz history. Bryan Jáuregui, of Todos Santos Eco Adventures, sits down with one of the most beloved and enduring icons of La Paz, La Vaquita del Arámburo.
Also in this issue, Deborah Wallendorf of The Wallendorf Collection takes us on a scenic tour of upscale real estate within the natural beauty of Todos Santos and El Pescadero.
Start your day with a cup of premium Mexican coffee from Café La Perla in Plaza Amigos. Tacoteca, also in Plaza Amigos, takes tacos to the next level with regional and seasonal specials and there is always a special on Taco Thursday!
Finn Real Estate Group was founded in the Los Cabos area in 1991. Their promise to their clients is to be focused, to deliver excellent service, and earn your trust and loyalty. Team members have expanded to include Carey Brown in Cerritos; see her new listing in this issue.
Desert Fox Vintage Baja makes handmade vintage, sustainable fashion. They create new clothing by "upcycling" already manufactured garments with some imagination, using many different fabrics including organic linen, cotton, Indian block print, and more. Visit their shop in the white building on calle Hildago and Juárez in Todos Santos.
Lotus Group have been providing whole home water filtration systems in La Paz for decades. Their compact, multi-functional water filtration system was developed specifically for processing raw waters or waters partially treated by municipal operations in BCS. See their ad for more information.
If you seek a meaningful and memorable experience, Baja Malas leads Mala Making & Art Meditation workshops at various, inspiring locations in Todos Santos, el Pescadero, Cabo San Lucas, San Jose del Cabo and La Ventana. Each unique workshop offers an opportunity to learn about meditation malas and create your own 108 bead mala necklace infused with your personal intentions and energy. Visit their website for more information.
Yoga with Lisa offers yoga classes for healthy ageing at Cuatro Vientos in Todos Santos. All shapes, sizes, ages, and abilities are welcome. You can also contact her for individual and private lessons.
The 10th annual Todos Santos Writers Workshop (TSWW) takes place January 28 – February 8th this year. See their ad and our events column for more information.
Artist Anne Hebebrand will be holding Cold Wax technique workshops in January and March at the Barro Sur Studio in Todos Santos. Look for more information in our events column as well.
We will see you next with our Holiday issue. The deadline is November 10.