12/12/12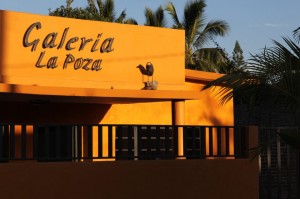 This Wednesday at 12 pm is the Grand Opening of Libusche Weisendanger's Galería La Poza on Calle Juarez in Todos Santos (just a few steps away from Galería Logan and the Hotel California).
Then, from 6 to 8 pm, friends of Wind and C are welcome to their Open House and Party to celebrate the re-opening of Wind and C at their new location at Los Cardones Bed and Breakfast at Cerritos Beach.
Windspirit and Carolen's commitment to delicious healthy food is the main attraction and is evident on their menu. Their focus is on preparing breakfast, lunch and dinners with all local, fresh and organic ingredients. By using more local and sustainably produced fruits, vegetables, meats, poultry and seafood, the dishes they create reflect their involvement with the local community.
The garden inspired recipes of Carolen's originate in her kitchen. Carolen grew up in Mexico City with a Oaxacan chef and nanny in her home. At a young age, she went to the markets and learnt to cook and so began Carolen's love of Mexican cooking. She continued to increase her knowledge by attending and graduating from cooking school while living in Northern California.
When Windspirit is not working mornings in their garden in Pescadero (which also produces many of the ingredients for the restaurant), he is in the bar creating his amazing herb and spice infused beverages.
The restaurant is open for lunch from 8 am until 3 pm and with dinner hours from 5 until 8 pm, Tuesday through Saturday. Happy hour is 5 to 6 pm and Sunday dinner is served 3 to 7 pm. Telephone 612-142-5617 for reservations and information.