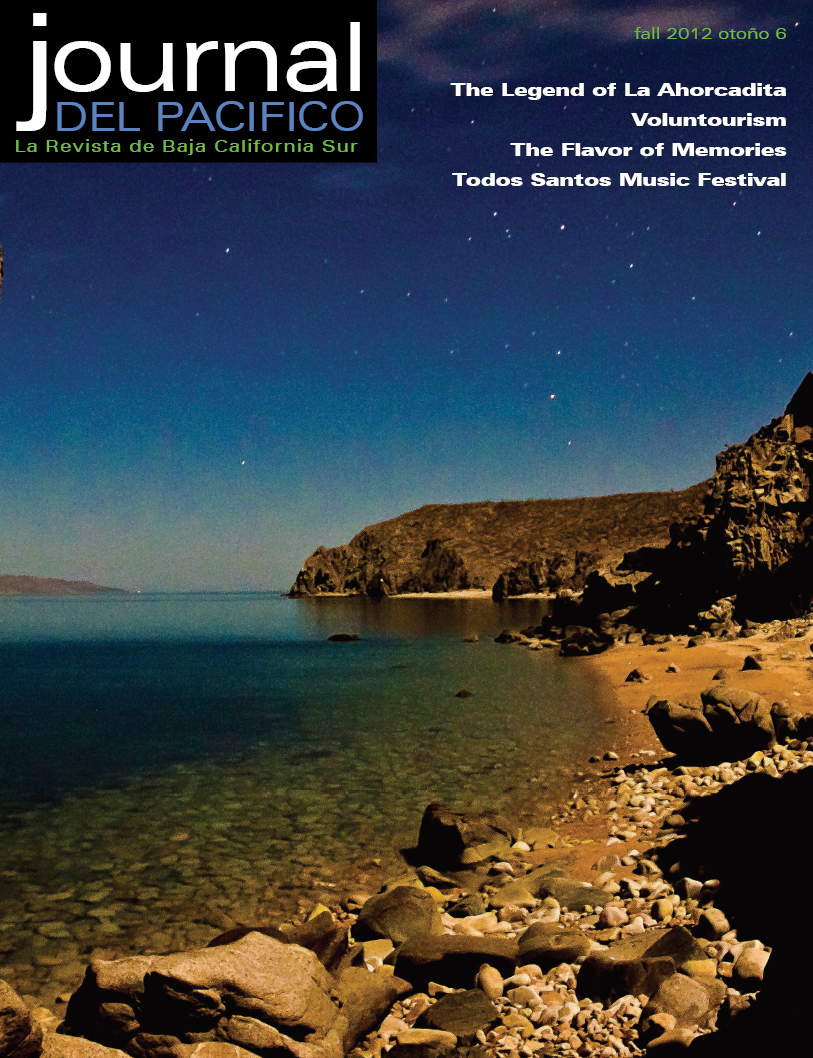 Welcome back to all of you who escaped the summer heat. This past summer has been one of our rainiest in years and the desert is in bloom! We're already getting lots of positive comments on our night cover shot of one of the beaches at Rancho Las Cruces by Kamal Schramm Rodriguez.
Pescadero Properties has moved to a new location in the heart of downtown Todos Santos—Plaza Antigua, upstairs in Local #9. You can still reach Roc at the same email and phone numbers. Raquel and Frimar accounting have also moved to Galeria "A" at calles Centenario and Hidalgo.
Coming soon in Todos Santos—The Distillery offering artisan spirits, beer, wine, food tours, tastings and takeout. The Distillery is located next door to La Bodega de Todos Santos on calle Hidalgo.
Tortugueros Las Playitas sea turtle hatchling release program will begin November 15 in Las Tunas. The new incubation greenhouse is located on the beach between Calle Los Mangos and Camino Internacional. There will be daily releases, open to the public and free of charge, at sunset through January.
Hotel Casa Tota and Restaurant La Santeña celebrate their one year anniversary on November 17. ¡Felicidades!
PHairy Godmother Hair Designs by Robin Austin will be at Pura Vida Health Food Store & Deli in November offering haircuts, color, and styling. For over 20 years, Robin Austin has done 100's of professional weddings and formal hair and is well known for her excellence, precision, and customer 100 percent satisfaction guarantee approach. email: PHairyGodMother@aol.com  tel. (612) 145-0471.
Shut Up Frank's, the local hangout in Todos Santos for 20 years, has four HD TV's showing all NFL and NHL games along with UFC and boxing. On Monday nights watch the game and enjoy "all you can eat" spaghetti. Their menu includes the best burger in Baja along with wings, specialty salads, fish and chips and more. Check with Steve for their live music and karaoke schedules.
Rancho Pescadero and Chef Bueno will welcome Chefs Kelly Liken and Tim Goodell for a weekend of food, wine, and much more November 29 – December 2. See Workshop and or call Rancho Pescadero for more information.
Visit the Cerritos Beach Brewing Company in Pescadero for good times, great beer and live music. They also serve up homemade root beer and hearty sandwiches and salads. Stop in for a cold beer, game of pool or play board games.
Como El Sol is now located in El Pescadero at the Plaza San Antonio, local #6, at the south side of the entrance to Pescadero. Adam is happy to help you with all your solar energy needs.
This winter, take part in cooking classes that are both interesting and informative. Buen Provecho will introduce a new series of cooking classes in La Paz, with Se Habla… La Paz Spanish Language School. Se Habla owner Juli Goff says "it's about the cuisines of Mexico, but so much more. It brings in history, archaeology, linguistics, and the role of the ingredients in the daily lives of people, it's fascinating!" Buen Provecho partners Denise Elliott, a professional chef/instructor and Renée Lagloire, a social anthropologist, have all the ingredients to keep you engaged in Mexican culture and cuisine. The afternoon classes will be starting in December/January. Be sure to check  for additional information about course content, fees, and a calendar of classes. Registration and payment for classes will be through www.SeHablaLaPaz.com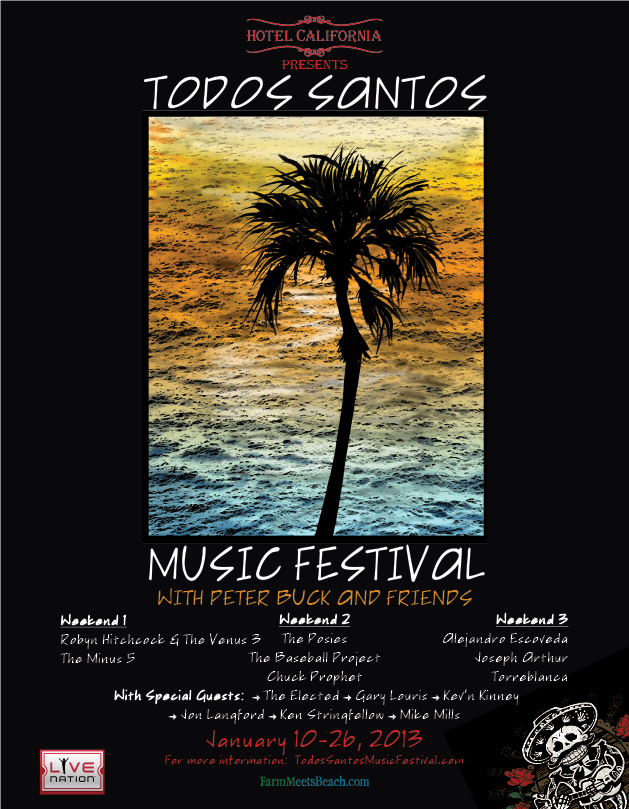 Mark your calendar, the Hotel California will present the second Todos Santos Music Festival January 10 through 26, 2013 benefiting the Palapa Society of Todos Santos, A.C. R.E.M. guitarist Peter Buck has hand-picked this year's lineup of artists. Visit TodosSantosMusicFestival.com to reserve your ticket today!
The La Paz Reggae Fest takes place December 1 at San Pedrito Beach. Doors open at 10 am for a full day of music, with camping available too! La Paz band Riddim Forz welcomes reggae musicians from Jamaica, England, Mexico City, Guadalajara and Baja California Sur. Also, special guests Wheatbread Johnson and Terry Townson. See 'Events' for more information.
November 1st is the deadline for our big Holiday issue with exclusive Todos Santos Music Festival interviews, Whale watching adventures and more!