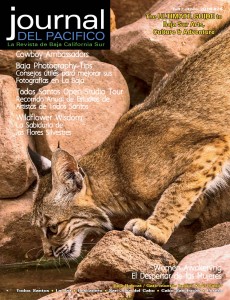 This issue marks the start of our sixth season promoting Baja California Sur and we have a lot to share! People have always enjoyed our profiles on different area business. In the Fall 2016 issue's 'The Spirit of Baja Sur' we talk about two new places for you to stay and enjoy your time in the Todos Santos/Pescadero area—The Residences at Freesouls at Cerritos Beach and The Vibe B&B in the heart of Todos Santos' historic district.
Chris Sabor, of Loreto Photography Adventures, has shared a few of his spectacular photos with us, including this issue's front cover, and better yet, nine of his tips for taking great photos.
Bryan Jáuregui, of Todos Santos Eco Adventures, tells the tale of the original cowboys, Baja's vaqueros, and their journey to the 31st National Cowboy Poetry Gathering in Elko, Nevada in "Cowboy Ambassadors." Trudi Angell, of Saddling South, was an integral part of the adventure. You can join her on a pack trip exploring traditional ranch life and rock paintings in the Loreto / San Javier and San Ignacio areas. See her ad for details.

Women Awakening is an exciting new summit taking place this December at Cuatro Vientos in Todos Santos. This year's theme is Integrating Ancient Wisdom with Leading Edge Experience. The weekend will feature speakers, workshops and movement practices. See our feature article to learn more. Tickets are available at La Esquina and online.
The popular Annual Todos Santos Open Studio Tour will take place over two days the weekend of February 11 and 12, 2017. The tour draws hundreds of people curious to see working art studios, meet and have a personal dialogue the artists of Todos Santos. Read our story to find out what's new with the upcoming Tour.
Also in February, is The Todos Santos Writers Workshop (TSWW). Much the way the Todos Santos music festival created an annual community of musicians and music for a wonderful week each January, the collaboration of TSWW and the Writers Ranch will create, for a week in February, a community of writers. The town will be alive with the creative spirit of storytelling, an art as old as humanity. See their website for dates and registration information.

Landi's Restaurant has moved to a lovely new location on calle Juárez just down from the bookstore, in Todos Santos. Their grand opening will be November 2, with a new, delicious menu of their Mexican cuisine "from the heart and for the soul."
Right by Landi's, Nomad Chic is now featuring Alo Yoga clothing and Quay sunglasses.
Take a short walk down Topete and try on a pair of hand tooled leather boots at Étnica. They have many new styles!
Adventure 19 Activity Center, Deli & Cantina is located across from the park in Todos Santos. They can help you with your Baja adventures—Sierra tours, kayaking, diving, fishing, whale sharks, ATVs and more. Adventure 19 is also working with the local delegado and skateboard companies to build a large skate ramp in the park for the young people of Todos Santos.
Lucky Nails & Hair Salon, on calle Obregón in Todos Santos, does more than just gel and acrylic manicures and pedicures. They also do makeup, haircuts and color, and waxing. Call Mireya for an appointment, 612 145 0249.
Having problems with your Mac computer or iPhone? Ask Reggie. He has opened an office in downtown Todos Santos.
Cerritos Beach Inn is now serving their Surf & Turf, Jumbo stuffed shrimp and Coconut jumbo shrimp every day—all with a free beer or half price glass of wine! You can also view all NFL games and UFC fights.
Baja Zen is the ocean-view yoga studio and retreat center at Cerritos Beach with morning yoga classes and evening restorative yoga. December 16, they will be holding their annual Holiday Fundraiser for local dog rescue. With yoga, live music, raffle prizes and treats.
Also on December 16, The Todos Santos Speakers Series resumes with a talk on "Birding in Baja California Sur" with Roberto Carmona (UABCS), Kaia Thomson and Sergio Jáuregui, Todos Santos Eco Adventures. See events for more information.
We'll see you with our Holiday issue! Deadline is November 10.
You can see the entire Fall 2016 issue, and all past issues, online by clicking here!