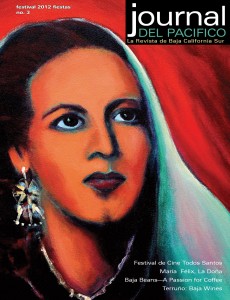 The new Festival issue is being delivered this weekend featuring Jill Logan's painting of "María Félix, La Doña" for this year's Festival de Cine Todos Santos poster. You can view the painting at Galería Logan and place a bid, minimum bid $1,500 USD. All proceeds from this auction support the "Youth In Video" educational program.
This year's Art Festival will include a parade on Sunday, February 5th, starting at the east entrance to town and traveling to the plaza where it will end with a four hour performance.
The Superbowl also takes place on Sunday, February 5th. You can catch the game at Shut Up Frank's in Todos Santos.
The 3rd Annual Artist's Studio Tour takes place February 12, and the 18th Annual Historic House Tour on February 26. Look for our articles in this issue.
The 9th Annual Festival de Cine Todos Santos begins February 23rdin Todos Santos with the opening night film, 'La Lección de Pintura'(The Painting Lesson) with special guest actor Daniel Gimenez Cacho. The festival then moves to La Paz at galería galería for two nights and the historic Teatro Juárez March 1 through 3. For more information, see our feature article, click on "Events" or visit www.todossantoscinefest.com
February 26th, The Hotel California will host a special Oscar Night party and fundraiser for the "Youth in Video" program of the Film Festival.
Westcoast Recording is a professional recording studio in La Paz. Available for group or solo recordings, composition and arranging services, plus more. Over 40 years recording and play experience!
The Corazón Café in the La Paz historic district has a valentine special for the month of February –come with a party of seven for dinner, drinks or just desert and the 7th person is free!
Petros cristales, piedras y metales has two locations—in Todos Santos and at Jalisco #87 between Abasolo and Belisario Dominguez in La Paz. They stock a large selection of stones and everything that you need to make jewelry.
Pintoresco has added a second location at the corner of Juárez and Hidalgo streets in Todos Santos. Both their new location and the shop across from the Hotel California have Mexican folk art and regional eco-organic products.
Baja Bell restaurant 'Coco Loco' at Los Cerritos is open for breakfast and lunch, Tuesday through Sunday. Menu choices include omelets, pancakes, burritos and more, at economical prices.
Carlito's Place in Pescadero creates unique fusions that include all of the world's great cuisines including: Asian, Latin American, Spanish, French, and Italian. They are open from 1 to 9 pm, Tuesday through Sunday.
Tsegyalgar West is a non-profit Tibetan Buddhist Retreat Center of the Dzogchen Community located in the San José mountains of San José del Cabo. This beautiful and wild 3,000 acre land has natural springs, granite boulders, grand vistas and deep quiet perfect for retreat. Their mission is to preserve the Dzogchen Tibetan Buddhist teachings and preserve this special natural environment for spiritual practice. Look for their event and workshop listings in this issue and on our blog. For more information contact: tsegyalgarwestsecretary@gmail.com or visit http://bajagar.blogspot.com
AH & Associates is pleased to announce that local architect Sylvia St. Clair has again been voted Best Architect in the Best of Baja annual contest.
Follow us on Facebook at: https://www.facebook.com/JournaldelPacifico